Data Science, Ciberseguridad y LegalTech entre las asignaturas universitarias que imparte el CEO de Cloud Levante
CEO Cloud Levante Victor Adsuar es responsable de la asignatura LegalTech en el Máster en Derecho de la Sociedad Digital de la Universidad de Alicante.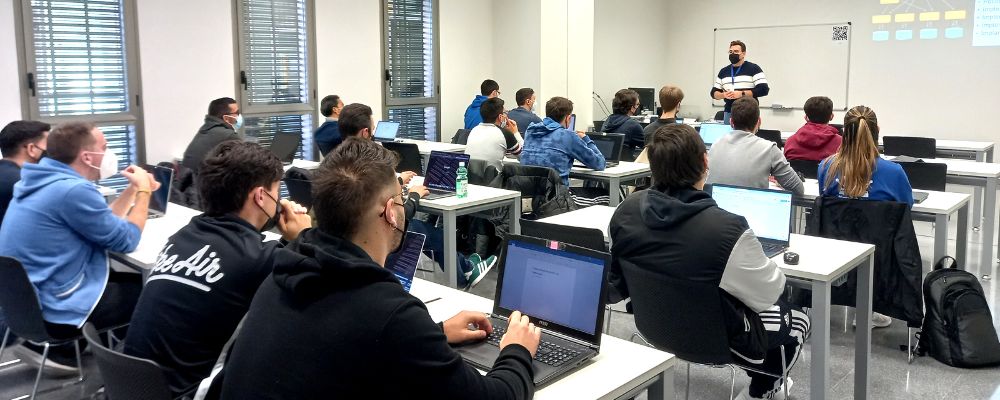 📷  Victor Adsuar con sus alumnos del Grado en Ingeniería Informática y del Máster en Ciberseguridad
El desarrollo tecnológico y el rápido cambio social han abierto un mundo de posibilidades para los especialistas en Ciencias de la Información. Son tantas las posibilidades que es imprescindible educar a la sociedad sobre los derechos que tienen al utilizar las tecnologías. Bajo este prisma, Victor Adsuar, Cloud Architect y CEO de Cloud Levante, ha sido seleccionado para formar parte de los profesores del Máster en Derecho de la Sociedad Digital de la Universidad de Alicante, donde impartirá sus conocimientos en el área de LegalTech.
La Universidad de Alicante cita en su Master's Programme in Digital Society Law: «El objetivo principal es preparar a nuestros alumnos para afrontar problemas complejos e integrarse en equipos interdisciplinares. La vocación internacional y eminentemente práctica del programa de estudios se refleja en su profesorado, integrado por prestigiosos académicos, profesionales del derecho, ingenieros, representantes de la industria y de instituciones nacionales e internacionales«.
Legaltech solution types.
Durante el curso académico, Victor Adsuar aplicará un programa interdisciplinar basado en las tecnologías emergentes y sus implicaciones en el mundo empresarial para explorar las cuestiones jurídicas que las rigen.

Así como aplicaciones de Inteligencia Artificial para la resolución de problemas con generación de lenguaje natural, reconocimiento de voz, agentes virtuales, aprendizaje automático, sistemas de toma de decisiones, biometría, automatización de procesos robóticos y procesamiento del lenguaje natural.

El objetivo es abordar los retos jurídicos que plantean las nuevas tecnologías: la protección de la intimidad y los datos personales, la propiedad intelectual, la ciberseguridad, la contratación electrónica, los derechos de los usuarios de las plataformas en línea y otros muchos aspectos de la sociedad digital de gran relevancia para empresas e instituciones.
En su papel de instructor de AWS ha dado continuos courses to financial institutions such as Banco Santander and BBVA. Profundizar en la comprensión de conceptos importantes como: variables de la arquitectura de la nube, bloques, sensibilidades, i.a.
Con su formación profesional y su experiencia docente, el CEO de Cloud Levante está más que preparado para trasladar sus conocimientos de LegalTech. Y de esta forma, formar a los profesionales encargados de regular las actividades que nos permitan construir una sociedad digital justa.
Victor afirma que «sin seguridad, la tecnología pierde todo el valor que ofrece» y destaca la importancia de responder a las exigencias de esta nueva realidad. Un reto innovador en el que Victor Adsuar está dispuesto a formar a profesionales capaces de afrontar los problemas legales que plantean las nuevas tecnologías.