AWS Elastic Disaster Recovery now supports multiple staging and target accounts
We are excited to announce that AWS Elastic Disaster Recovery (DRS) has added support for multiple staging and target accounts. Today we can replicate and protect up to 300 source servers per AWS Region. By using multiple staging and target accounts, we can now also recover up to 3,000 replicating source servers into any target AWS account. 

Backup and disaster recovery projects are one of the entry solutions that many companies use to validate the cloud as a business continuity strategy. The security and availability offered by the cloud is perfect for this. And now, new features make the configuration, implementation and monitoring of disaster recovery easier and more efficient, especially for large-scale projects.
A disaster recovery system has to provide a stable and robust solution that is capable of recovering a critical system in minutes. For this we use the AWS Elastic Disaster Recovery service which offers a perfect solution to keep your standby system synchronised and ready to take control of your production loads in the case of a problem.
Now, with the new capability, we can recover source servers from multiple staging accounts into a single AWS target account. This provides a separation that can be useful for many purposes, including security, billing, and project management. We can also recover any single source server into multiple target accounts, and this can be used for many purposes, including testing, sandboxing, development, and production.

Backup and Disaster Recovery Solutions

At Cloud Levante we offer specific security solutions. We identify the security problems of organisations and offer a resolution plan to solve them.
1. Deploy contingence platforms on the cloud.
2. Automated cloud backup systems.
3. Integration of local data centers with cloud environments.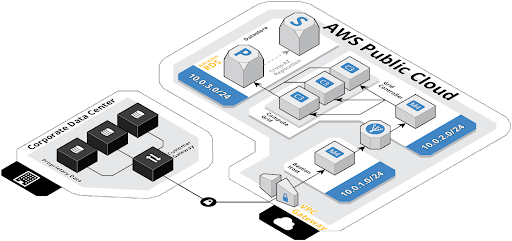 Backup solutions consist of the scheduled uploading of corporate data to the cloud so that in case of loss it can be retrieved for service restoration. Common services used for this type of service are DataSync or S3, as well as AWS Storage Gateway. In this way, we can develop customised solutions for the scheduled upload of data to the cloud and its automatic recovery in case of need. We also integrate backup services such as Veeam Backup in cloud environments for greater optimisation of storage and agility in operations.
Projects Developed by our Cybersecurity Team