ITIL Dimensions, Practices and Certifications: Details of ITIL Frameworks in the IT World
IT Infrastructure Library (ITIL) is a guide that brings together a set of concepts and best practices that are used for the management of IT services, IT development and IT-related operations in general.

The ITIL guide proposes good practices as a tool for maintaining and improving service management in organizations. These companies can belong to any sector. Their objective is to control and improve management processes in order to improve the quality of the services and products they provide to their customers.
ITIL pillars that ensure the effectiveness of the service strategist
Processes: necessary for IT management according to the alignment within the organization.
Quality: optimal delivery to the customer with the agreed characteristics.
Customer satisfaction: the aim is to improve service to the direct beneficiary.
Independence: good practices must always be maintained, independently of the methods established for each process and the existing providers.
ITIL version 4 currently focuses on the Service Value System (SVS).

ITIL 4 is the latest version. Released in 2019 it expanded on the previous version by providing a practical and flexible foundation to help organizations on their journey into the new world of digital transformation. It provides an end-to-end IT/digital operating model for the delivery and operation of technology-enabled products and services and enables IT teams to continue to develop a crucial role in business strategy.
ITIL structures IT service management on the concept of the Service Lifecycle.
This approach aims to provide a global view of the life of a service, from design to conclusion. It highlights the details of all the processes and functions involved in the efficient delivery of the service.
The launch of ITIL 4 has been necessary to adapt to the new needs of organizations.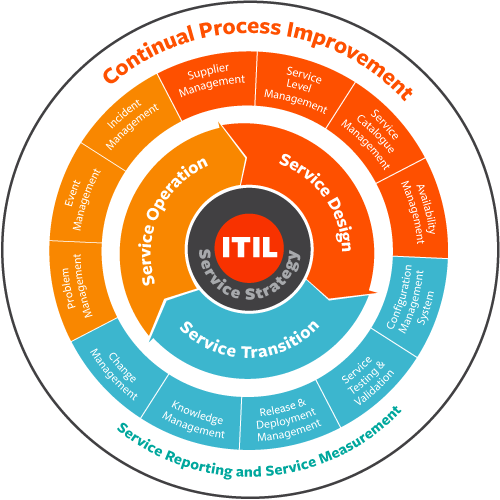 ITIL v4 Practices and Process Dimensions
In addition to processes, ITIL v4 includes a number of practices:
General management practices: strategic, risk management and continuous improvement.
Service management practices: Service Design / Transition / Operation and Service Desk.
Technical practices: cloud service models.
In turn, each of these practices is based on four dimensions:
Organization and people through corporate culture and competences.
Information and technology, understood as existing knowledge and information.
Providers and partners as actors directly involved in the service.
Value flows and processes

, the creation of value with the integration of all parts of the organization.
ITIL certifications and recognitions
The ITIL Certification Scheme recognizes people who employ ITIL best practices. These certifications are recognized in the ITIL Complementary Qualifications Scheme. Those qualifications that are endorsed will receive a credit value. ITIL certification is the choice for IT professionals looking to develop their full potential and move to the next level in ambitious organizations.
The new ITIL certification scheme has been simplified and updated to reflect the roles and skills required in today's digital world.
TIL ® Fundamentals
It provides an introduction to modern IT-based service management, explains the common language and key concepts, and enables you to improve your organization by using ITIL® 4.
ITIL ® Managing Professional (ITIL MP)
It provides IT specialists in digital and business technology teams with the knowledge to achieve results with IT services, equipment and workflows.
ITIL ® Strategic Leader (ITIL ® SL)
the value of ITIL® for all services. The ITIL® SL certified professional demonstrates a deep understanding of how IT influences and drives business strategy.
To obtain the titles of ITIL® Managing Professional (ITIL MP) or ITIL® Strategic Leader (ITIL® SL), the practitioner must complete all modules in each series: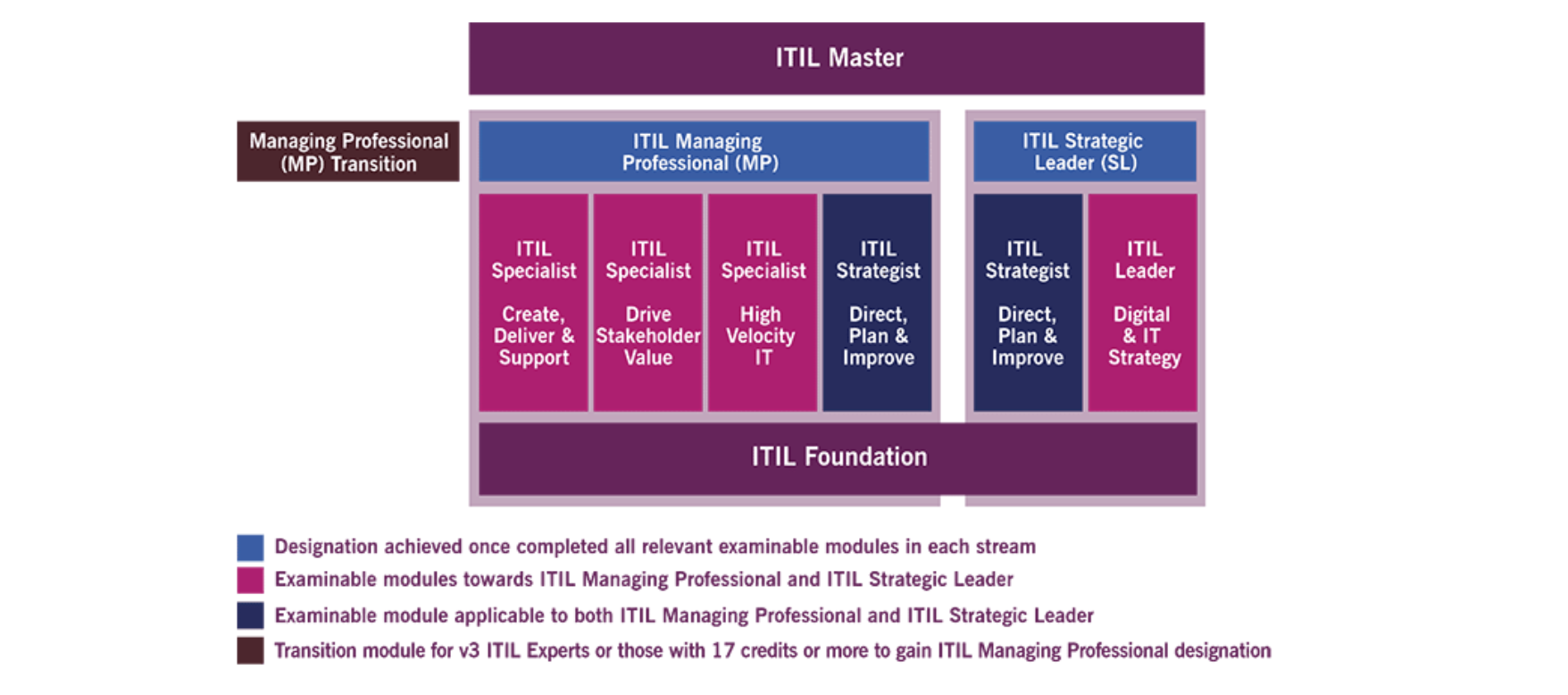 We could write a long list of the benefits of ITIL. On this occasion we are going to highlight that in Cloud Levante with the ITIL guide we get more satisfaction in our work. The reason is simple: a service that performs better, is more efficient and costs less. Which means better results for our customers. And not only external customers, but also our technical team gets improvements, such as a well-functioning IT infrastructure and clear processes to perform their daily tasks.
We also believe that another of ITIL's fundamental principles is just as important: thinking and working together. Today, all services are interrelated. This interrelatedness requires individuals and groups to constantly cooperate and work as a team. Achieving excellence in technology services is based on how people, practices and information work together and are aligned behind the same goal.