Digital transformation could bring €228.000 million to the Spanish economy 
This week Amazon Web Services (AWS) commissioned a report from Public First about digital adoption and digital skills training in Spain. The report provides interesting data such as "Digital transformation could contribute 228,000 million euros to the Spanish economy".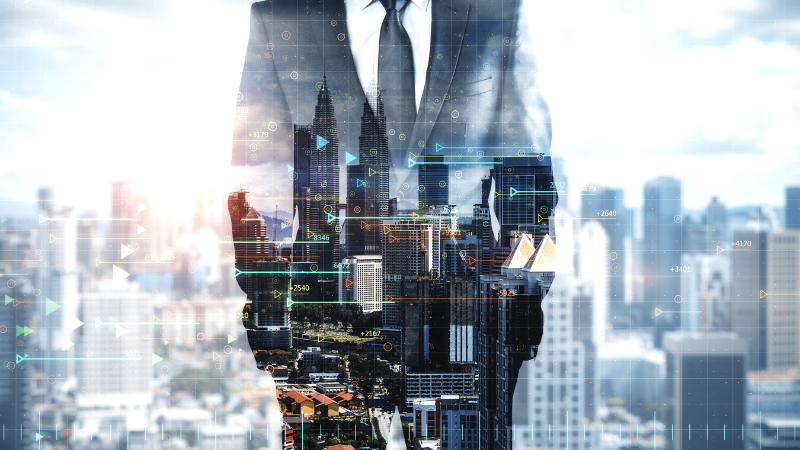 The study underlines that 55% of these estimated gains would depend on cloud technology. In addition, it analyses the role that cloud technology plays in terms of the scope of the EU's digital ambitions.
The report focuses on four areas to contribute to the EU's digital transformation: business, skills, infrastructure and government. Below we summarize the highlights within the main categories of the report.
You can read the full report here. 
Business
Not enough companies are taking advantage of the power of existing digital tools
In total, 88% of businesses say digital technology has become more important to their business in the last five years. However, Spain is still a ways away from the EU's target for 75% of companies to adopt cloud, big data and AI.
Some of the lowest hanging fruit for boosting productivity is the adoption of existing technologies such as cloud or digital tools like CRM, ERP, or online accounting by small businesses. This alone can boost business productivity by 10-25%.
The Benefits of Cloud Computing for Businesses
Flexibility and Cost Savings. Using cloud computing, companies pay only for the technology they use. This means that they can scale capacity up and down to meet sudden or seasonal spikes in demand, and can avoid paying for unused computing power. On average, business servers often see utilization rates of under 20%, while cloud server utilization can exceed 50%. We estimate that European AWS users saved around 39% of their IT costs by moving their workloads to the cloud.
Innovation and Agility. The cloud allows for the more rapid development, deployment, and scaling of new digital tools and services. European developers told us that using AWS sped up their development times by an average of 26%.
Store and Protect Data. By building applications in the cloud, companies can automate manual security tasks, while maintaining ownership and privacy for their data.
At the same time, many Spanish businesses are currently only using cloud computing for relatively basic purposes, such as file storage, with only a minority currently taking advantage of more advanced use cases such as big data analysis or running their own internal applications.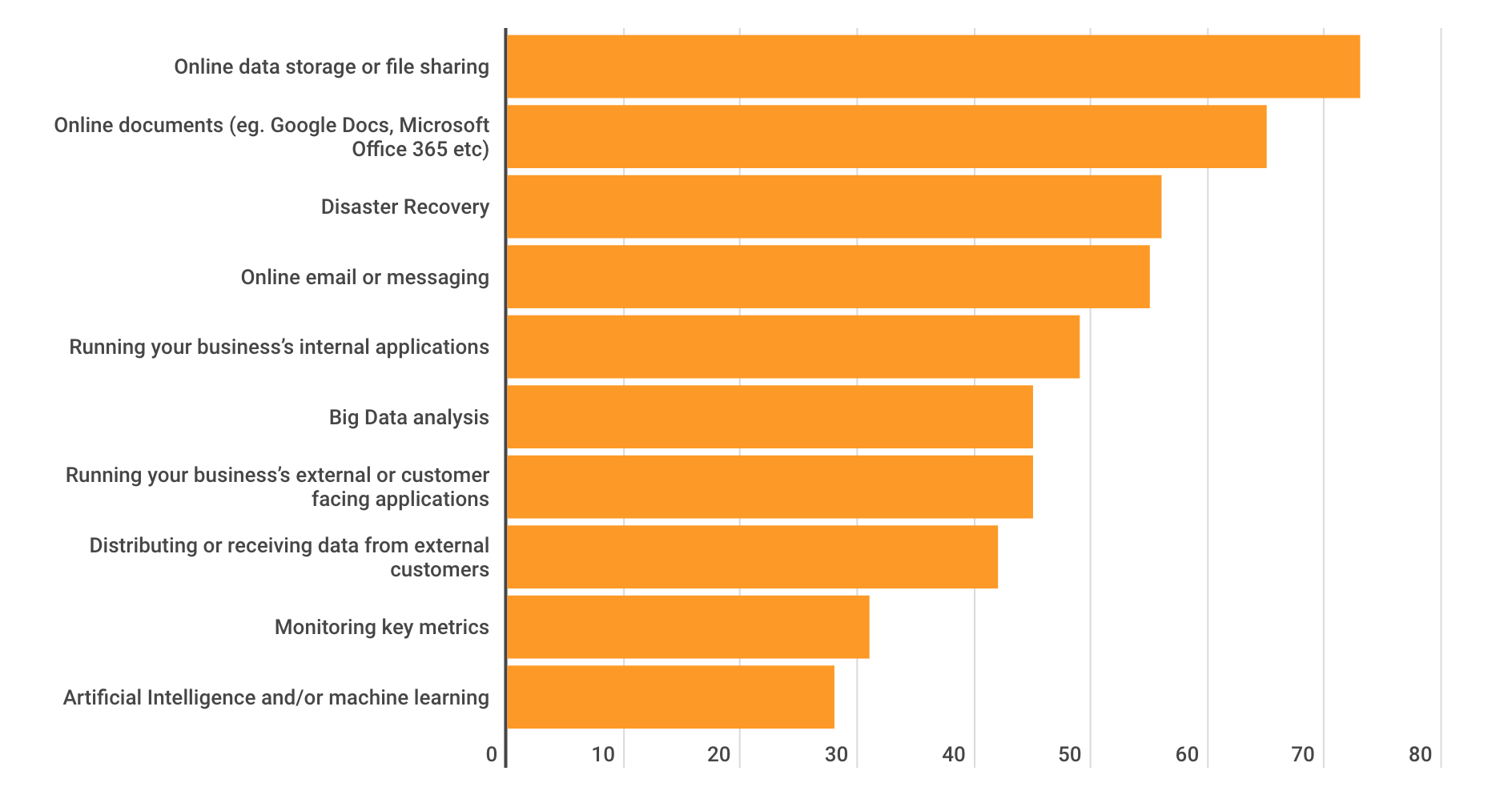 IaaS and PaaS play a key role in the digital transformation of many companies, with Spanish cloud users saying that PaaS has enabled them to replace paper or manual processes with digital systems (42%), automate existing business processes (36%) or develop new types of applications (27%).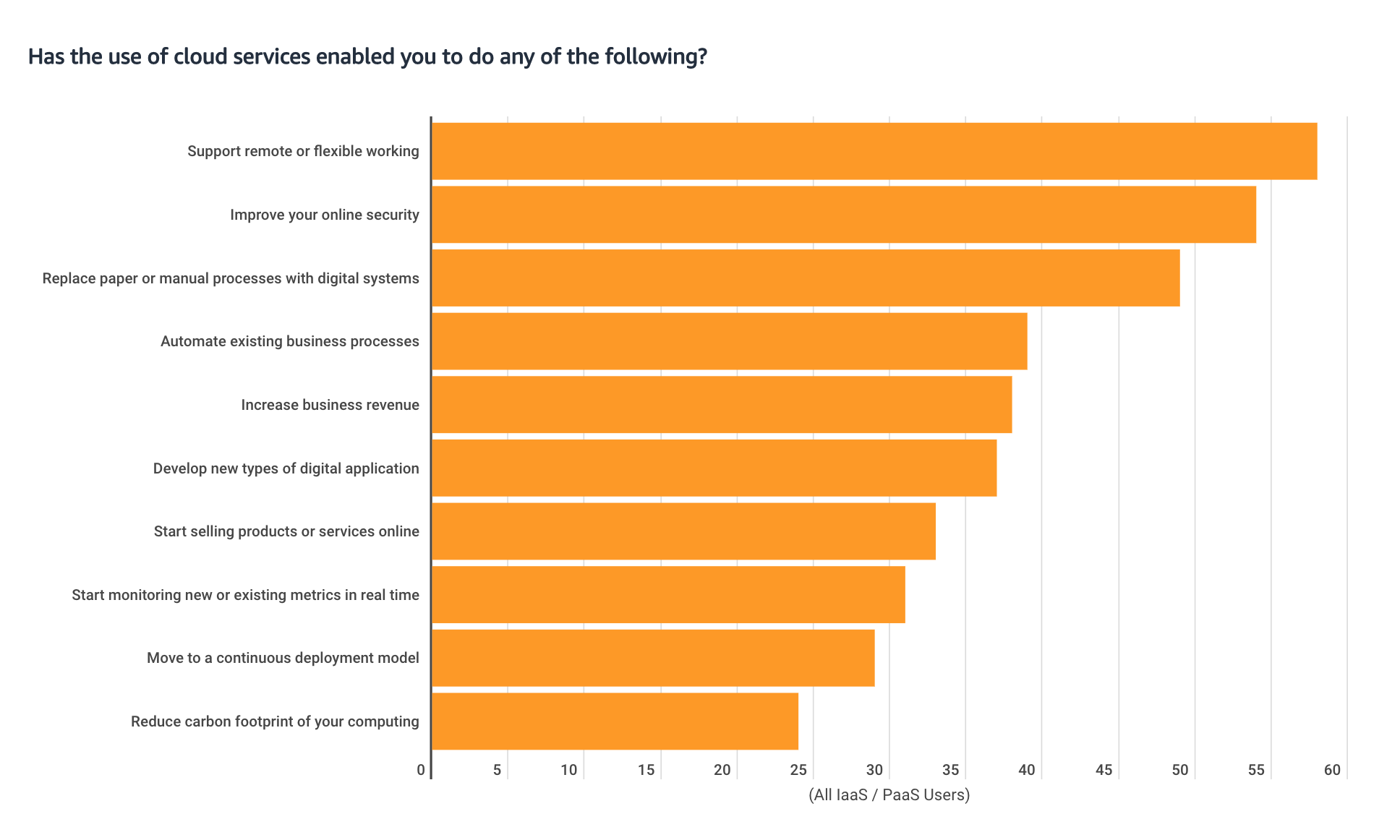 Skills
Among businesses, digital skills were seen as important or essential for 81% of businesses and 95% of highly digital intensive businesses.
Over half of business decision makers (67%) reported that they felt like they personally needed to have better digital skills for their job, and 88% reported that basic digital skills were important for their role.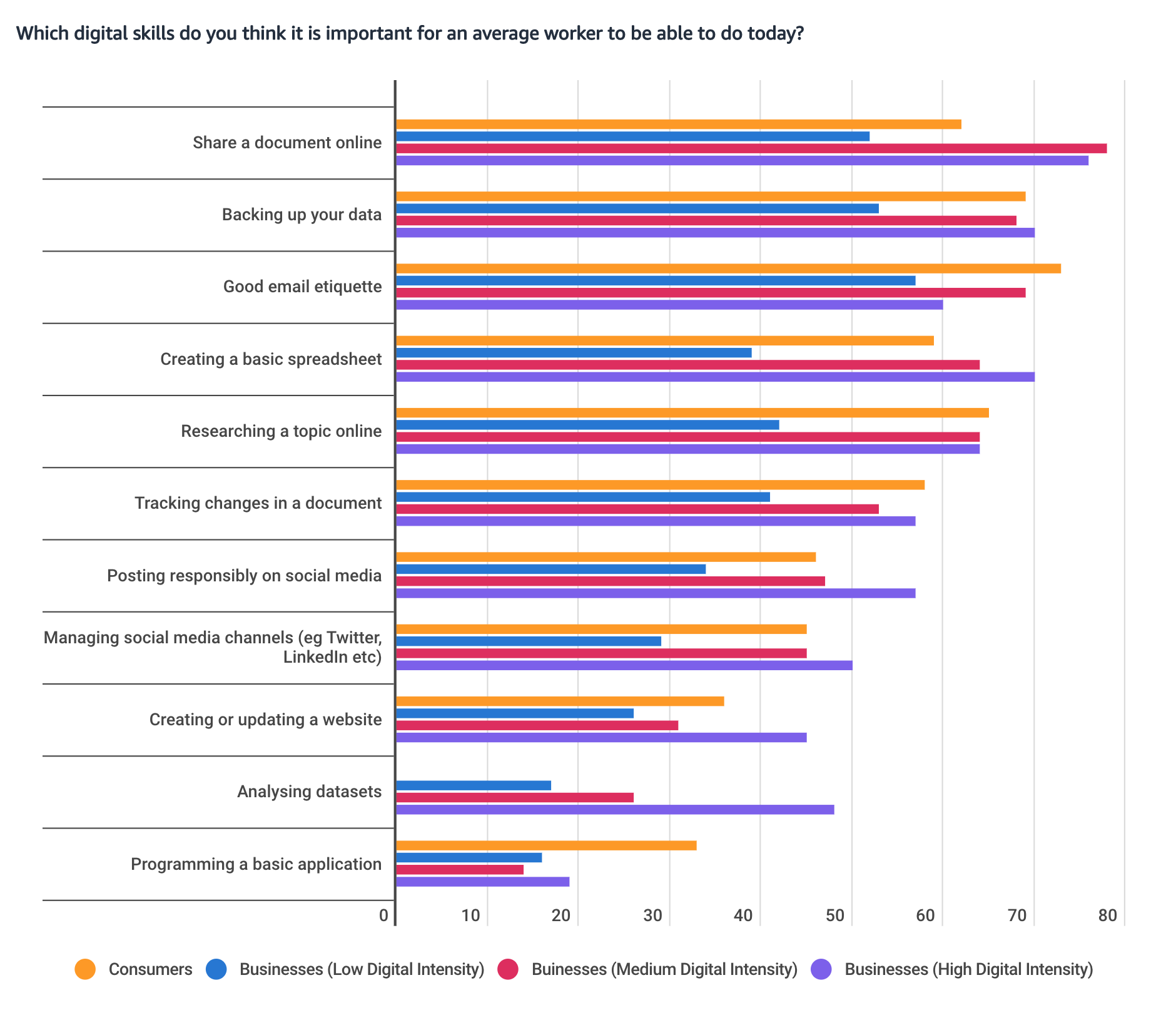 Digitally intensive businesses were significantly more likely to say that they found it difficult to find staff with good digital skills (47%) compared to the average business (39%) – and that a shortage of digital skills had affected their business, with 38% saying it had slowed growth, 27% that it had increased costs, and 29% that it had slowed the development of new technology.
"Basic and intermediate digital skills are likely to be as important as advanced digital skills for the future of the European economy", according to the PublicFirst report.
Digital skills important for the average worker to be able to do their job today.
Europeans believed these skills should include basic web and digital skills, while more digitally intensive companies were more likely to think that data analysis and programming were also important.
Infrastructure
Digital technology is one of the most crucial forms of infrastructure
57% of Europeans said they would support the construction of a data centre by an international cloud provider in their locality, compared to 7% who were opposed.
Both consumers and businesses chose faster or more reliable internet as their leading priority for infrastructure investment, ahead of more traditional forms of transport infrastructure such as roads, railways, or airports. "As we have seen in the last few years, in many instances, digital connectivity can act as a substitute for traditional forms of transport, reducing the need to travel for work." said PublicFirst.
As one of its Digital Decade targets, the EU has set a goal for the creation of "10,000 climate-neutral highly secure edge nodes." By 2025, the European Commission expects 80% of all data to be processed in smart devices closer to the user, known as edge computing. Today, it is estimated that 80% of the processing and analysis of data takes place in data centres and centralized computing facilities.
According to the business survey, the most important factors in selecting a cloud service provider are reliability (45%), reputation (29%), breadth of services offered (29%), security (25%) and cost (25%). The nationality of the cloud provider is the least important factor (3%).
Government
Movin 10% of government IT systems to the cloud save Spanish taxpayers over 15 millions € a year.
EU's Digital Decade Goal
100% online accessible provision of key public services for EU citizens and businesses.
State of Play
In Spain, 82% of public services and 94% of business services are digitizable.
The EU is a world leader for digital government, but there remains significant untapped potential.
Around two-thirds (67%) of Spanish citizens currently report using e-government services. Many of Europe's governments are recognised as among the world's leading digital governments. The UN's Online Services Index, for example, rates Spain as 17th in the world.
Cloud computing plays a crucial role in enabling digital government: collecting data, keeping it secure, and providing cost savings for the taxpayer. We estimate that moving 10% of current IT systems to the cloud has the potential to save Spanish taxpayers over €15 million, in part due to reduced infrastructure and maintenance costs.