Third year as a member of AWS Community Builders
AWS Community Builders is a community of members who create and share content among AWS technicians.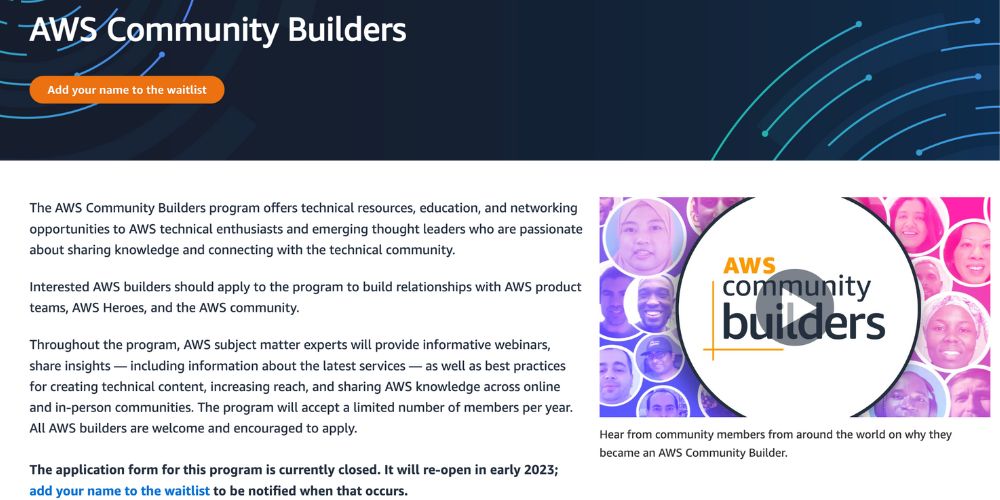 What is AWS Community Builders and what does it offer us?
It is a big community organized by slack, and where first level contents are published periodically. For example, webinars, trainings, updates, etc. And apart from that, there is updated information about events, and opportunities to propose topics as speakers.
As AWS describes on its official website: Community Builders provides technical resources, education and networking opportunities for AWS technical enthusiasts and emerging thought leaders passionate about sharing knowledge and connecting with the technical community.

Main benefits and added value
Among the benefits we receive from Amazon Web Services we highlight the network of contacts, and the possibility of sharing knowledge with true technology leaders.
Updates are of great importance in our industry. Staying current allows us to develop disruptive technology, so it is very useful for us to receive information on the latest services as well as best practices to create technical content, increase reach and share AWS knowledge in virtual and face-to-face communities.
It also provides us with AWS promotional credits and other useful resources to support content creation for our customers and friends. And access to cloud product teams and information about new services and features.
Currently, the program covers the technological areas: containers, data (databases, analytics and BI), developer tools, web and mobile front-end, Game Tech, Graviton and ARM development, Cloud Ops, machine learning, network content and delivery, security and identity, serverless technology and storage.
The program accepts a limited number of members per year. You can see the complete community listing in the global directory, which allows you to identify members by topic or geography.