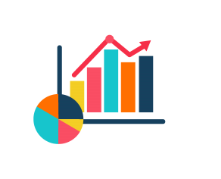 We are Amazon Big Data Certified 
What is Amazon Big Data?
We help companies collect, store, analyze and visualize the necessary data to extract any information necessary for growth.
Transforming data into knowledge is our goal! We focus on the solutions. Our work method follows the steps and standards included in the Amazon Web Services (AWS) Big Data Certification.

How do we implement Amazon Big Data Cloud?
Collection of Data
We obtain data from different data sources, clean and transform, preparing us for the next phase.
Analysis
We analyze the clean data, focusing on the results we collaboratively seek to obtain.
Visualization
In the final step, we present the results obtained during the analysis in a manner simple enough for your understanding.
During the process, we will need storage to save the data results from each step. For this, we use a variety of storage options that AWS offers.
These steps require processing time. We differentiate two types of projects based on the time needed to collect and obtain the data desired.
Batch processing
This occurs every so often that data is processed and the information needed is obtained. The resulting information will change at the end of the process in groups and will remain the same until the execution of a new process.
Processing in real time
Information from the results is consistently updating in function from incoming data.
Depending on the time required to process data, various AWS services are utilized. The complexity and costs of the project will vary accordingly.
The objective of Amazon Big Data projects is to obtain valuable information for the corporation through the collection and analysis of data obtained from different data sources. This process is a result of answers to the questions that can be asked by any area manager of any company: Marketing, Logistics, Financial, Senior Management, Personnel, Production, and Business.
We have the answers to these questions:
How do I increase sales and results from marketing campaigns and to what extent?
How much money has been gained from an investment?
What is the profit obtained for each department?
How do the actions of the competition influence my market share?