Cloud Migration
Cloud migration is one of the first steps that any company takes to start enjoying the advantages offered by the cloud.
We adopt a customized approach to cloud projects, taking into account the needs and particularities of each case. We perform an exhaustive analysis of the situation and select the most appropriate migration strategy: rehosting, replatforming, repurchasing or refactoring.
We focus on implementation in cloud environments, as well as migration of systems from on-premises to the cloud or between clouds.
MIGRATION & DEPLOYMENT
Virtual Desktop
Enterprise environments
Streaming solutions
Database migration
Web environments
Secure apps
Ecommerce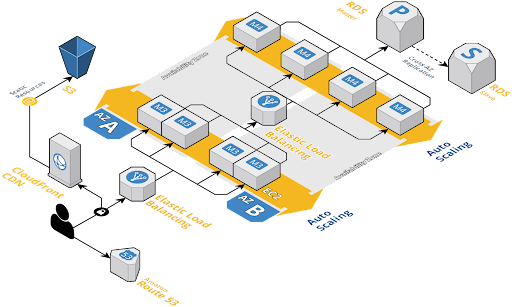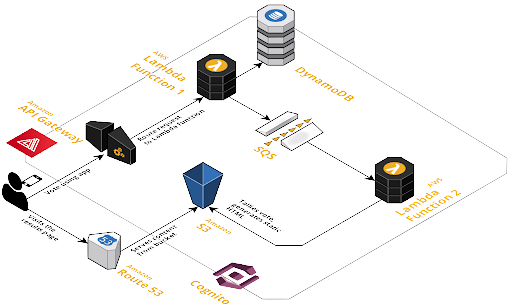 Enterprise Cloud Solutions
Our cloud services provide the necessary resources at the right time and allow you to adjust to costs. The cloud represents an innovative platform for the development and deployment of digital solutions. The integration of applications or platforms through hybrid cloud environments or the migration of existing applications offers remarkable flexibility.
Cloud technology is globally disruptive and is distinguished by its availability, security, resilience and automation, providing companies with clear and measurable solutions.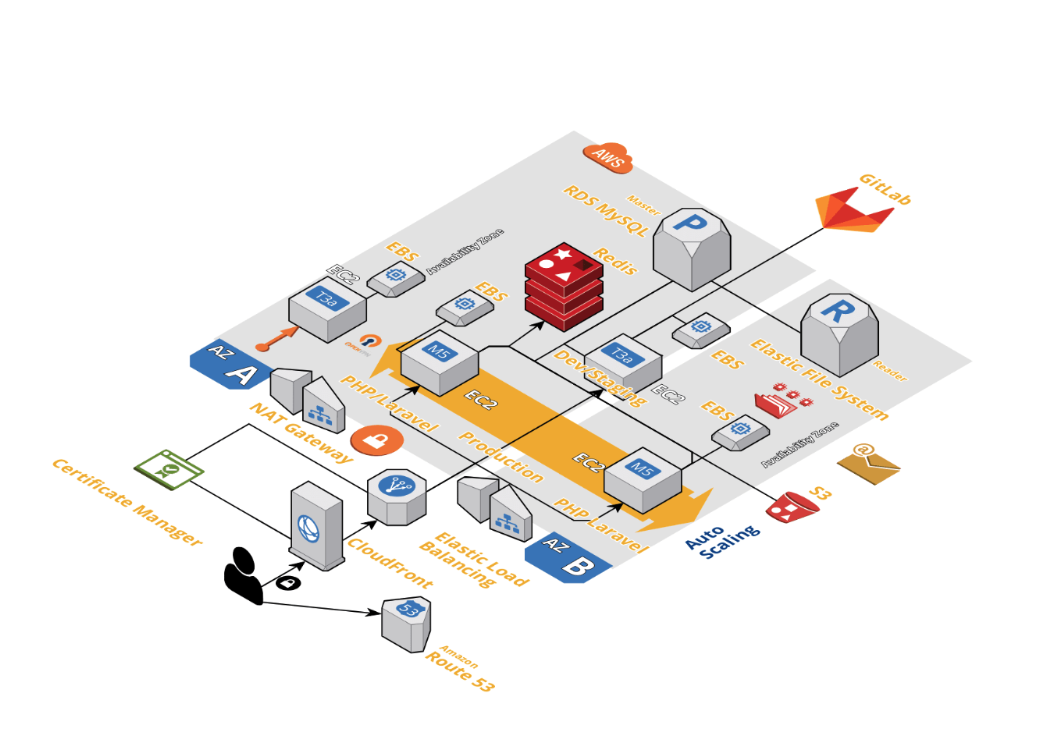 Before a Cloud Migration, we study the case and design an architecture that adapts to your needs.
We implement the architecture and validate it with functional and capacity tests.
Cloud Infrastructure Architecture and Orchestration
The adoption of running applications in cloud environments has significant benefits and is becoming a distinguishing factor for organizations looking to undertake their digital transformation. By migrating workloads to the cloud, we can deliver services programmatically and dynamically. This means the ability to provision the necessary resources at the right time and adjust them based on costs, providing exceptional service scalability, especially for growing projects or those with variable demand.
In addition, integrating applications or platforms through hybrid cloud environments or migrating existing applications to the cloud offers remarkable flexibility.
Migrate and assist in the integration of cloud applications using frameworks such as Laravel and Spring
Implement open source solutions such as WordPress, Magento, Prestashop, Zimbra or Nextcloud
Deploying large platforms with Websphere or Jboss Wildfly
Frequently Asked Questions 
What are the benefits of migrating to the cloud?
Migrating to the cloud offers numerous benefits, such as instant scalability, greater operational flexibility, reduced infrastructure costs, access to advanced services and tools, and increased ability to adapt to changing business needs.
What is the best cloud model for my company?
The appropriate cloud model depends on the needs and goals of your company. There are several cloud models available, with the most common being public cloud, private cloud, and hybrid cloud.
Public cloud is a model in which computing resources, such as servers and storage, are provided by cloud service providers and shared among multiple users. It is ideal for web and mobile applications as it offers scalability and flexibility, allowing quick and easy access to cloud services.
Private cloud involves creating a dedicated cloud infrastructure for a specific company. Computing resources are used exclusively by that company, providing greater control and security. This model is preferable for companies with stricter security and compliance requirements, such as regulated industries or those handling sensitive data.
Hybrid cloud combines both public and private cloud. It allows companies to keep certain data and applications in their private cloud while using the public cloud for other purposes. This approach provides flexibility as companies can leverage the benefits of the public cloud for less sensitive workloads while maintaining control over critical data and applications in their private cloud.
How much does it cost to migrate to the cloud?
The cost of a cloud migration can vary significantly depending on various factors such as the size and complexity of the existing infrastructure, the chosen cloud service provider, the level of customization required, and other specific business factors.
However, what is certain is that a migration to the cloud offers significant cost savings from day one. The ability to scale and choose resources on demand allows for adjusting services according to needs, aligning costs with gains. In contrast to having an on-premise infrastructure, this translates into considerable savings as it avoids excessive expenses on underutilized infrastructure and eliminates the need to maintain and upgrade expensive equipment. Additionally, by leveraging the economies of scale and operational efficiency of cloud service providers, organizations can optimize their long-term costs, freeing up financial resources to invest in other strategic areas of their business.
How can I calculate costs before migration?
At Cloud Levante, before conducting a migration, we offer clients a comprehensive proof of concept. This includes using online calculators to estimate costs based on specific client requirements. We evaluate aspects such as cloud service prices (such as storage, bandwidth, and processing), data transfer costs, software licenses, and any other costs related to migration and ongoing cloud management. This way, we provide an accurate estimate of the costs involved.
What is the impact on the performance of my system when migrating to the cloud?
Migrating to the cloud positively impacts the performance of your system. In the cloud environment, you gain greater flexibility and scalability, allowing you to scale rapidly without physical limitations or hardware investments.
Additionally, you can experience significant improvements in processing speed, response time, and the ability to handle peak loads.
Cloud providers ensure optimal operation of your system in the cloud. The system can experience a 50% increase in processing speed, a 30% reduction in response time, and the ability to handle peak loads up to 200% higher compared to an on-premise environment.
How long does a migration to the cloud take?
The duration of a migration to the cloud varies depending on the complexity and size of your existing infrastructure. It can take anywhere from weeks to months, depending on factors such as the amount of data to migrate, application complexity, and proper planning.
Is the platform affected during the migration?
At Cloud Levante, we understand the importance of minimizing any disruption to the operation of your platform during the migration process.
Our approach is based on working with live production loads, ensuring that your platform continues to function smoothly while the migration to the cloud takes place. By adopting this strategy, we avoid any negative impact on the performance and availability of your system during the transition. This allows us to optimize migration times and ensure a seamless experience for your users. Additionally, we have a team of cloud migration experts who are responsible for planning and executing the process efficiently, ensuring a successful and smooth transition.
How is the security of my data guaranteed in the cloud?
A dual layer of security is provided.
On one hand, the infrastructure service provider takes care of aspects such as hardware updates, incident protection, and physical data safeguarding.
On the other hand, as a customer, you have access to additional tools such as multifactor authentication, data encryption, and regular audits that you can use to provide additional protection to your data.
What backup and disaster recovery measures are offered in the cloud?
As a cloud consultancy, we provide recommendations and solutions to ensure backup and disaster recovery measures in your cloud environment. This may include setting up automated backups of your data and applications, as well as implementing replication strategies and redundant storage to ensure the availability of your resources in the event of a catastrophic event. We work alongside cloud service providers to ensure that your backup and recovery requirements are met.
How is data privacy managed in the cloud?
Data privacy is a significant concern in cloud computing. As a cloud consultancy, we ensure that your data is protected and handled in accordance with security and privacy standards. We work with cloud service providers that comply with regulations and standards such as the General Data Protection Regulation (GDPR) and offer advanced security measures, such as data encryption in transit and at rest, granular access controls, and security audits. Additionally, we help you implement good security practices and privacy policies to ensure the protection of your data in the cloud environment.
How will migrating to the cloud affect my IT team?
Migrating to the cloud can free up your IT team from maintenance and infrastructure management tasks, allowing them to focus on strategic and higher-value initiatives. However, it's important to provide adequate training and support so that your team can adapt to the new technologies and challenges.
What level of technical skills are required to manage and maintain a cloud environment?
Managing and maintaining a cloud environment requires a suitable level of technical skills. As a cloud consultancy, we have a team of highly trained experts in fundamental cloud computing concepts, cloud infrastructure management, security, and system and network administration. Furthermore, we stay up-to-date with the latest technologies and best practices in the cloud field. Our goal is to provide you with the necessary support and expertise to efficiently manage and maintain your cloud environment.
Advice, execution and comprehensive support in cloud services. Our approach is based on offering a high quality service that eases the burden of maintaining your infrastructure.
Advice, execution and support
Comprehensive infrastructure analysis in six key areas: operational excellence, safety, reliability, efficient performance, cost optimization and sustainability.
Improved and optimized infrastructure