Generative AI has come to the financial sector, and it's here to stay
In today's digital age, Artificial Intelligence has proven to be a transformative force in a variety of industries. In the financial world, where efficiency and accuracy are key, companies are looking for innovative ways to improve their operations and maximize their performance. Generative AI is arriving as a tool to improve accounting and finance departments. We are witnessing the positioning of AI as a driver of change in the financial sector, bringing efficiencies and new opportunities for growth.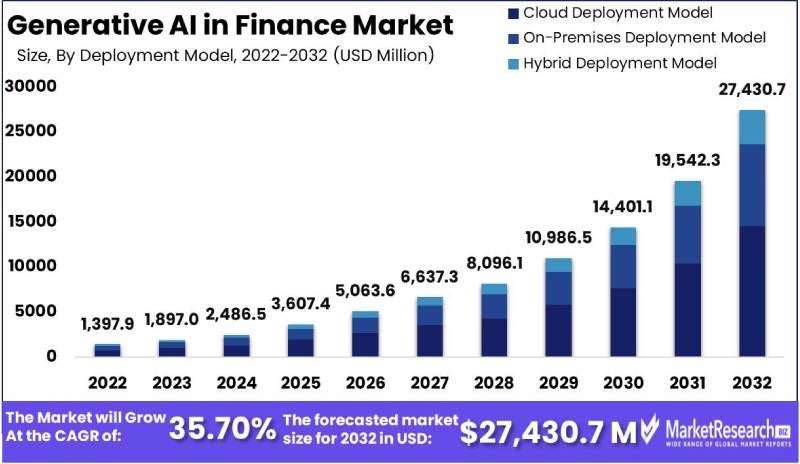 Chief financial officers (CFOs) have always been wary of risk, especially in an area as sensitive as finance. However, they are intrigued by the efficiencies that generative AI could bring, at a time when cost reduction has become a priority for many companies. In addition, the growing shortage of accountants is a concern, and the implementation of generative technologies could effectively address this challenge.
Companies have begun to experiment with and consider the use of generative AI in finance. Currently, this technology is being applied to predict questions posed by analysts on earnings calls, research competitor earnings calls, and answer internal queries on accounting policies. These are just the first steps, as generative AI is expected to become an essential tool for forecasting earnings, streamlining book closings and strengthening investment decisions.
From Automation to Innovation
In recent years, companies have adopted robotic process automation to streamline their financial operations. This has been especially useful in processing payroll data, expense reports and reviewing legal documents. Machine learning has also been widely used to predict financial scenarios and forecast cash flows. However, generative AI takes this efficiency to the next level, opening up new possibilities for strategic decision making.
Experts predict that the adoption of generative AI will transform the skills of finance and accounting professionals over the next decade. Instead of performing repetitive tasks, accountants will be able to take on more strategic roles, similar to those of data scientists and systems engineers. This transition to more meaningful roles will not only increase efficiency, but will also attract recent graduates to the financial sector.
The Way to Full Adoption
Although many companies are already using emerging AI technology in their finance departments, full adoption of generative AI will take time. Companies are expected to gradually incorporate these capabilities into their existing enterprise resource planning systems. While some CFOs already have future plans to implement generative AI, it is estimated that the technology will reach its full potential within five to ten years as it evolves and adapts to the changing needs of the industry.
Generative AI is emerging as a catalyst for transformation in the financial sector. Its ability to optimize routine tasks, improve forecasting accuracy and enable finance professionals to perform strategic functions is an exciting prospect. While the adoption process will take time, firms that embrace this technology will be better positioned to thrive in a competitive financial environment. Generative AI is a powerful ally in driving efficiency and innovation in the future of the financial sector.